LocoIO module for Loconet
This is an 16 bits input/output module with connection to Loconet. It is possible to connect it with signals, switches, current sensors, push buttons, ... . Now also with blinking outputs and 4-way signal output, Points feedback and second opcode for inputs. Basically what this device does is converts a 0 or +5 volt signal to a Loconet message and/or converts a Loconet message to a 0 or +5 volt signal, and this for 16 independent bits. It also does software de-bounce of the input.

- Apart from the normal address LocoIO now has a sub-address as well. This can be used to give certain areas of a track a fixed address and use the different sub-addresses for the LocoIO within a zone. In a modular rail track the different club members can be given one LocoIO address and on top of that every club member can use several LocoIO's with different sub-addresses.



LocoIO users manual (version 12/04/2022) and LocoIO software.

HDM08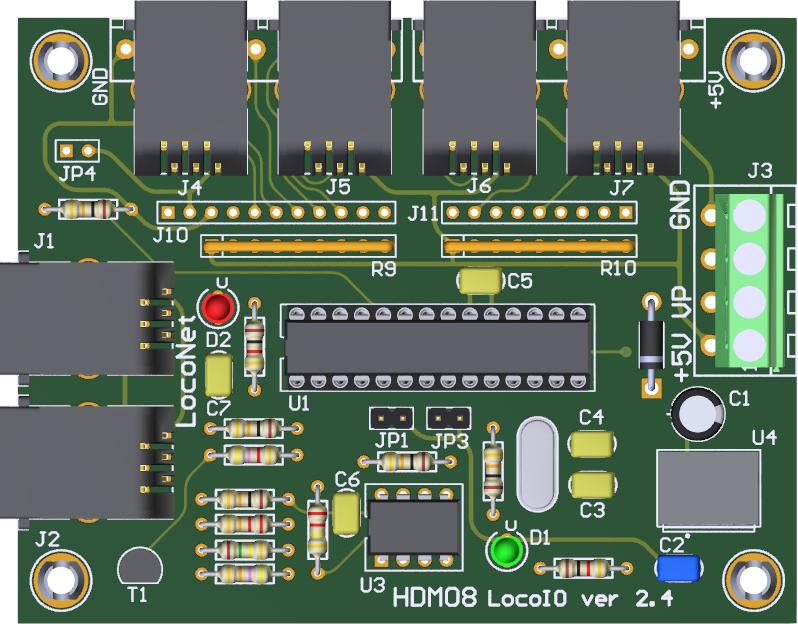 HDM08C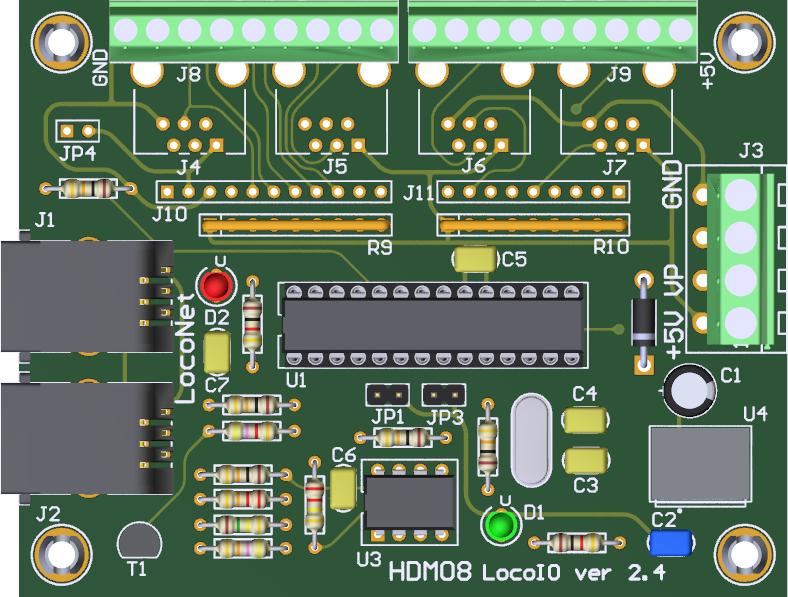 HDM08D
This PCB 7x9cm with code "HDM08C" with the 1 Programmed PIC with components for building the version LocoIO with RJ12 connection for use with HDM04, HDM06, HDM10, HDM11 and HDM19 can you purchase for 33 Euro
This PCB 7x9cm with code "HDM08D" with the 1 Programmed PIC with components for building the version LocoIO with screw connection, can you purchase for 38 Euro
This PCB 7x9cm with code "HDM08" without components can you purchase for 7,50 Euro
The PIC programmed with version LIO154 can you purchase for 10 Euro
You can order at the LocoHDL WEBSHOP



LocoHDL configuration program Example for LocoIO